Humane Society of Huron Valley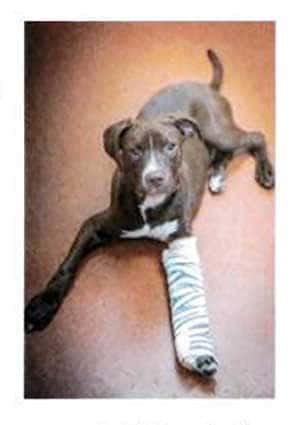 Dear Friends,
Thank you for your generous donations to the Humane Society of Huran Valley. We want you to realize how very, very important you are. So important, in fact, that Zeke would have loved your autograph on his cast!
Zeke is a chocolate lab mix puppy who came to HSHV as a stray. There was no time to waste- his foot had a broken bone and needed immediate medical attention.
The pain may have dampened his cheery spirits at first, but once his foot was treated and in a cast, Zeke proved to be the typical wiggly pup. He's feeling so much better that he would very much like to wiggle out of his cast every chance he gets! Yet with patience and constant attention, Zeke is on the mend. He's safe from the cold winter, with a belly warmed by yummy treats and all the love he could ask for until he's ready for his forever home.
We told Zeke not to worry. Because of supporters like you, he'll grow up to be big and strong! Thank you, Friends, for getting Zeke and countless other vulnerable animals back on their feet this winter.
Tonya Hilgendorf
President and CEO
hshv.org
facebook.com/humanesocietyhuronvalley