East Tennessee Nissan donates to Boys & Girls Club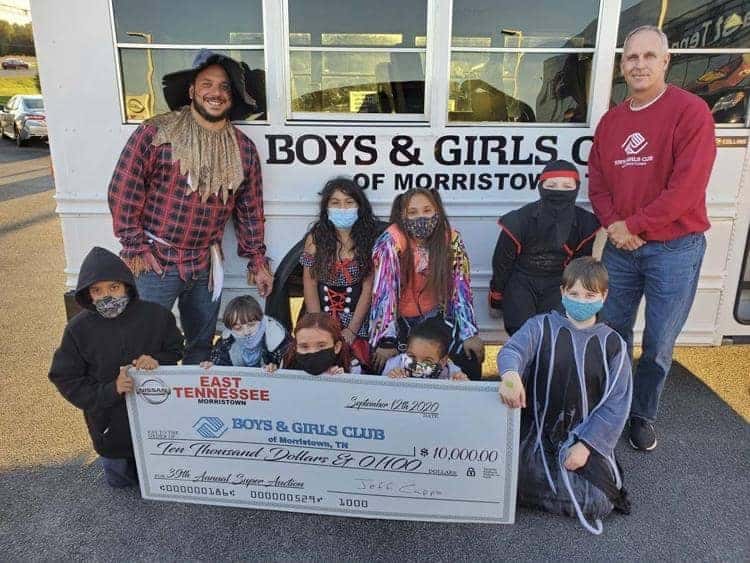 East Tennessee Nissan is continuing an eight-year tradition by making a donation to the Boys & Girls Club of Morristown.
The 35-year old dealership made a $10,000 donation to the club Saturday afternoon in a ceremony at East Tennessee Nissan at the end of a "Trunk or Treat" celebration. The money will go towards the "Tasty Tuesdays and Thursdays" program at the club.
General Manager Stavros Kaplaneris decided to do a "Trunk or Treat" celebration this year as part of giving back to the community.
"Every year, we do a donation to the Boys & Girls Club," Kaplaneris said. "This year we wanted to do something a little different. We actually did a 'Trunk or Treat' this year. We had more than 600 people come through here. It was absolutely incredible."
Kaplaneris said that the dealership gave away more than 60 pizzas, had pumpkin decorating, costume contests and more.
"We've always partnered with them and we had them bring their kids out here. We just want to be a pillar of this community, to continue to give back, to support the community the best way we can," he said.
Noting the 35-year celebration of the dealership, Kaplaneris wants to make sure everything they do is a reflection of helping the community.
"It's a celebration this year and there's no better way to give back than to give back to these kids," he said. "This is just a small token of our appreciation for everything the community has done for us."
Boys & Girls Club Executive Director John Seals expressed appreciation to the community for their continued support of club activities.
"We have a very supportive community and East Tennessee Nissan has been very supportive over the years and this allows us to serve our kids so much better. It's such a blessing to have businesses like East Tennessee Nissan who have been part of our club for many years."
The Boys & Girls Club of Morristown is one of the agencies of the United Way of Hamblen County.